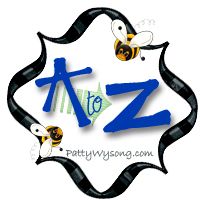 Welcome to A to Z!

We'd love to have you join the fun, either blogging your way through the alphabet with us, or simply visiting. =) We dearly love visitors.

If you're joining in the meme, be sure to link up with us at the end of this post. Since this is a blog hop, you can grab the code for the linky down there too. Find more info about the A to Z meme here.
Today's Blog is brought to you by the letter "F"
I'm a little late posting for the letter "F". I wanted to introduce my new recipe blog hop last week, but time constraints prevented it. So, I'll introduce it here and hope you'll join me this week when I provide the linky codes for The Most Delicious Blog Hop on the Internet!
You can grab the button to add to your side bar here: The Most Delicious Recipe Blog Hop!
If you'd like to participate, here are the
Linky Codes for The Most Delicious Recipe Blog Hop
. This is a great way to drive traffic to your site because people are looking for unique recipes for the holidays. In January folks will look for great waist-trimming recipes, too.
I hope you'll join me in this new adventure! Let's get cooking!