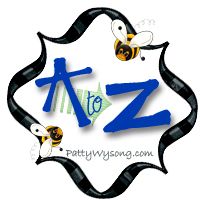 Welcome to A to Z!

We'd love to have you join the fun, either blogging your way through the alphabet with us, or simply visiting. =) We dearly love visitors.

If you're joining in the meme, be sure to link up with us at the end of this post. Since this is a blog hop, you can grab the code for the linky down there too. Find more info about the A to Z meme here.
Today's post is brought to you by the letter "H"
Happy Thanksgiving!
Tonight we're having our family feast. But this morning I'm going to the high school to the twins' Life Skills Class for a pre-feast! Their special education teacher is amazing and the class puts on quite a spread. She goes way above and beyond. Before I leave to go this morning I'll put my own turkey in the roaster.
The rolls are made, all the pies and the Cherry Fluff.  The green beans are ready to go. I wanted to get more done yesterday but I'm fighting some sort of sore throat thing again and just didn't have the energy. So today I'll finish up the corn pudding, sweet potatoes, mashed potatoes and gravy and stuffing. Yes, this is a carb-filled feast. Oh. Yum.
This year is very special because I'll have all my sons at the table for the first time in almost three years. I'll also have four granddaughters and some friends. And while most people will be enjoying their feast on Thursday, I'll probably be sleeping.
Food is a funny thing. I've noticed that it puts all the men in my life in a great mood when I'm in the kitchen cooking. I get more hugs and kisses. Whether we like it or not, we humans do equate food with love.
And I'm grateful on this Thanksgiving to have so much of both, aren't you?
What are your family's favorite dishes at Thanksgiving? What kind of stuffing do you serve? Corn bread, oyster, or traditional? Weigh in!
And have a doggone Happy Thanksgiving!