It is with great sadness that I introduce the last letter of our A to Z blog hop: the letter Z. Or as they say in Australia: Zed.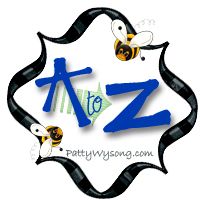 Z is for Zoom! Which is my favorite thing to do. I love go to FAST. Unless I'm running. Then it's not zoom but doom. But as long as there are other mechanized motors involved, fast is my favorite.
Now, I realize there are other kinds of zoom. Such as the zoom lens on a camera–
Or the zoom button on your computer that makes font or pics larger–
But that's not the kind of zoom I mean.
I mean the type of zoom that makes your heart beat faster, right in your throat, and makes you feel extremely alive.
Here are some creatures that ZOOM!
People who zoom:
Human inventions that zoom:
If you don't think money zooms — just go balance your checkbook. Go ahead. I'll wait…
Welcome back!
As those of you who know me already know, my favorite way to zoom is on my motorcycle. I'm missing the feel of the wind on my face during these cold winter months, but rest assured, I'm plotting my riding strategy, drooling over maps and out-of-the-way riding destinations.
Tweet this: What are some ways you ZOOM?