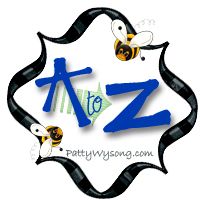 Welcome to A to Z!

We'd love to have you join the fun, either blogging your way through the alphabet with us, or simply visiting. =) We dearly love visitors.

If you're joining in the meme, be sure to link up with us at the end of this post. Since this is a blog hop, you can grab the code for the linky down there too. Find more info about the A to Z meme here.
Today's post is brought to you by the letter P!
God is so cool.
The other day I was sitting in my office in my HUGE office chair. I'd bought it because it was sturdier than chairs I'd bought in the past and was hoping it would last longer.
And while I did admire its sturdiness, it was just too big. I couldn't turn it around in the little crawl space behind my desk.
My office area is tiny. "Lord," I casually whispered. "I need a smaller chair."
A few days later, Mr. Himself found this PINK CHAIR WITH DIAMONDS on sale at a furniture store marked waaaaay down!
Apparently, there isn't a great demand for pink, blinged-out office chairs!
Now, Mr. Himself knew nothing of my prayer. And when I'd prayed for a smaller chair, I didn't have anything this dramatic in mind.
But God is the God of delight. He loves giving us the desires of  our hearts. I had no idea I wanted a pink office chair with diamonds. (Okay, so they're not real diamonds. But still–they sparkle!)
Pink is one of my favorite colors. Without meaning to on purpose, I tend to choose pink accessories:
My love of pink is obvious. But pink's only my second favorite color.
My first favorite color is purple–and it also starts with P!
I have a purple coat, leather jacket, kindle cover, purses, earrings, shirts and blouses. I usually write with a purple ink pen. I even shop at a purple store!
But today, I'm tickled pink about a chair I had no idea I'd be so happy to have. I'm thankful to a God Who hears all our prayers and exceeds our expectations! (P is also for Prayer!)