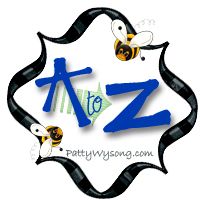 Welcome to A to Z!

We'd love to have you join the fun, either blogging your way through the alphabet with us, or simply visiting. =) We dearly love visitors.

If you're joining in the meme, be sure to link up with us at the end of this post. Since this is a blog hop, you can grab the code for the linky down there too. Find more info about the A to Z meme here.
This week is the letter D.

I love Dresses! I've always been a girly girl and nothing makes me quite as happy as getting dolled up in a pretty dress. Here I am all fancied up for the red carpet at a movie premiere with my granddaughter, Trinity:
When I was younger (and not yet an old grandmother with arthritic feet) I was an edgy dresser. You probably can't imagine that can you? Okay, so maybe you can. I was shopping at vintage stores and wearing recycled clothes before it was cool. I loved mixing odd items such as a boy scout shirt with a fluffy green skirt. Yeah. That was me. The weirder the better.
You can see some of my strange taste in clothes on my My Style Pinterest Board.
I'd still dress weird if I could get by with it, but as a pastor's wife, I have to tone it down a bit. There's still a side of me that loves strange fashions. Thankfully the side that likes pretty dresses has won out in my old age.
When I'm writing a story, I enjoy choosing what my heroines are going to wear. In my current work in progress, Flora Jean has the opportunity to wear beautiful gowns. I base all my fashions in the book on actual pictures I've found of clothing from the era. If a dress I love isn't exactly from the right date, I change the description of it to fit the date but still use the colors and the idea of the dress. I have her dresses sent from France, so I'm able to use that as an excuse for the dress to be a little more ahead of the typical fashion of the 1830s or more unique as they are made by exclusive designers.
I find it fascinating that the iridescent colors of the beads in the dress above are made with fish scales on the inside of glass beads, don't you?
I have several other Pinterest Boards that include beautiful Dresses from the past:
Pandora Dolls (These are antique dolls wearing authentic antique styles. Wealthy ladies had them sent to them with the latest fashions and that's how they shopped for the new season's clothes.)
What is your favorite item of clothing to wear (besides pajamas!)? If you could wear anything at all to a fancy event, what would you choose?