When my computer crashed, I missed the weeks of L, M, N in our A to Z blog hop. Horrors! And now it's already time for the letter O!
So here goes.
L is for lazy. I had a very lazy Christmas holiday. I slept tons. I mean, I never knew it was humanly possible to sleep as much as I did and still be alive and breathing. If there's such a thing as Christmas Coma, I invented it. I was utterly and completely exhausted. For this reason, I'm sure God had a plan for my computer crashing and burning. And I'm grateful. My life is a steamroller of expectations and responsibilities. It's something I'm working on changing.
M is for movies. I was going to watch a bunch of them over the holiday, but L for Lazy interfered with that.
N is for noshing:
I did far too much of that this holiday and while I don't really know how much weight I gained, I know that I did gain a few pounds simply because of the way my clothes feel. (The scale is broken. And I hear you laughing. No, I didn't break it. "Not me" broke it. "Not me" also starts with the letter N.) Now my stomach feels all rumbly and icky and while I promised to detox from sugar after the holidays were over, I've yet to make the complete and final leap. (See letter L.)
Finally we come to this week, which is brought to you by the letter O.
O is for "O Well."
I've been using this phrase a lot lately. Living three weeks without a computer taught me a few things about submitting my day to the Lord and going with the flow.
Admittedly, I have had more opportunities to learn how to go with the flow as the mother of twins with autism and the caregiver of a mother-in-law with Alzheimer's. (Did I forget to mention the son with bipolar and the husband with ADD?)  Going with the flow should have been something I mastered long, long ago.
But there's still that rebel inside of me that wants what I want when I want, how I want. There's that ornery little imp that kicks and screams and throws a fit if things don't go her way.
Instead of throwing up her arms and saying, "O well, that must mean God wants me to _________." She stomps her foot and says, "Fine. Then I'm going to play 55,000+ games of Words with Friends and pin 783,278+ pins on Pinterest via my phone."
O Well would lead me down the path the Lord has lit for me to walk. As in, "O well, my soul is O so very well, and God has a better plan."
But that would be too easy, wouldn't it?
Why is it so difficult for me to submit to the O Wells in my life?
I believe that anything that is a strength, is also a weakness when it's used incorrectly. God has given me a stubborn streak that serves me well when writing books, finishing college courses as a full-time online student pursuing a degree. I have the tenacity of a bull dog when it comes to the goals I believe I'm to pursue.
But that same ability to hang on to a dream raises its head as rebellion when I'm asked to diverge from my plans.
God can't bless disobedience. Why can't I get that through my "N is for noggin?"
God has my best interest in mind. If I keep that at the forefront, I'll be able to say, "O well, this is the way God wants me to go today, and it is good."
Psalm 37 (KJV) has a lot to say about God's best interest for us:
Psalm 37:3-7; 23-25

3 Trust in the Lord, and do good; so shalt thou dwell in the land, and verily thou shalt be fed.

4 Delight thyself also in the Lord: and he shall give thee the desires of thine heart.

5 Commit thy way unto the Lord; trust also in him; and he shall bring it to pass.

6 And he shall bring forth thy righteousness as the light, and thy judgment as the noonday.

7 Rest in the Lord, and wait patiently for him: fret not thyself because of him who prospereth in his way, because of the man who bringeth wicked devices to pass…

23 The steps of a good man are ordered by the Lord: and he delighteth in his way.

24 Though he fall, he shall not be utterly cast down: for the Lord upholdeth him with his hand.

25 I have been young, and now am old; yet have I not seen the righteous forsaken, nor his seed begging bread…"
O WELL O WOW!
If I obey, my steps are ordered of the Lord. How much more relaxing it would be if I'd simply walk peacefully in those steps instead of stomping through them.
What frustrates you the most when things don't go your way? Am I alone in this submission thing? Weigh in!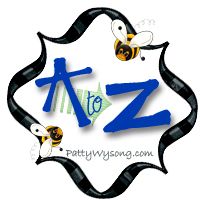 Find more info about the A to Z meme here.
•
•
•