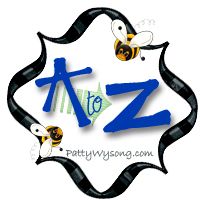 Welcome to A to Z!

We'd love to have you join the fun, either blogging your way through the alphabet with us, or simply visiting. =) We dearly love visitors.

If you're joining in the meme, be sure to link up with us at the end of this post. Since this is a blog hop, you can grab the code for the linky down there too. Find more info about the A to Z meme here.
Today's Blog is brought to you by the Letters I and J
I missed the letter "I" last week, and since I'm a bit OCD, I have to include it before I can move on to the letter J. So, briefly, here is the letter "I"–for "Instamatic." And below is an Instamatic photo of me in my wedding dress 32 years ago (my anniversary is December 3). This was taken by my childhood Sunday School teacher who loved to take photos and record me singing. This was in the days of innocence and ours was a unique father-daughter bond. I don't think I can even describe it to you.
Me in 1982 a few days before my wedding
Did you know that Instamatics are making a come-back? It's a new art form!
Now for the Letter J
J is for Justice
I've been thinking a lot about this word, justice. People have been protesting in hopes of bringing it to pass. And it's true that while we live on this earth, we are to seek justice and be proponents of it. God commands us to "Defend the poor and fatherless: do justice to the afflicted and needy" (Psalm 82:3).
But as long as justice is meted out by fallible people, there will be no true justice in this world. Where is the justice in children going hungry, being abused and neglected, or dying of cancer? What is just and fair about me going about my Christmas shopping and decorating while young children are beheaded in Iraq because they refuse to deny Christ?
Life on this earth simply isn't fair. My day to day life is better than many people's, and countless others have it better than me. There is no equality while living on this side of heaven.
Which makes our need for true justice all the more obvious.
People tend to look at Jesus as a sort of Santa Claus whom they pray to about all their wants and desires. I admit doing it myself because I believe that my Lord is interested in everything I'm fascinated with. He's not surprised I like pretty things, and dream of a more user-friendly house. I talk to Him about it often. However, He is so much more than a Friend I can go to about my heart's desires. 700 years before Jesus was born, the prophet Isaiah proclaimed:
And the spirit of the Lord shall rest upon him, the spirit of wisdom and understanding, the spirit of counsel and might, the spirit of knowledge and of the fear of the Lord;

And shall make him of quick understanding in the fear of the Lord: and he shall not judge after the sight of his eyes, neither reprove after the hearing of his ears:

But with righteousness shall he judge the poor, and reprove with equity for the meek of the earth: and he shall smite the earth: with the rod of his mouth, and with the breath of his lips shall he slay the wicked.

And righteousness shall be the girdle of his loins, and faithfulness the girdle of his reins." — Isaiah 11:2-5

There are no just judges or juries in this land. There never will be. Our souls yearn for justice because we long for a heavenly home. Our souls yearn for something "more" and I believe that's because we yearn to be forever in the very presence of Justice Himself.
There is something inside of all of us that knows there will be a day of judgement when the wicked must pay. The thing many people don't realize, however, is that all have sinned, are wicked, and have fallen short of the glory of God (Romans 3:23). They compare themselves with others instead of with the righteousness of God. Without the cleansing power of Christ, not one of us will be justified on the terrible day we stand before the Lord and account for our lives.
But my Savior, Jesus Christ–He is my advocate and will tell the Father, "her sins are paid in full." Only because He loved me enough to die for me. What kind of justice is that? It's certainly not fair to God. It's not fair at all.
But this is grace, my friend. Beautiful, boundless, amazing, undeserved grace.
I, for one, don't want justice for my sins. I don't want what's coming to me.
And what blows my mind, and what I can't get my mind around sometimes, is that He doesn't want that for me, either.
 "And therefore will the Lord wait, that he may be gracious unto you, and therefore will he be exalted, that he may have mercy upon you: for the Lord is a God of judgment: blessed are all they that wait for him. For the people shall dwell in Zion at Jerusalem: thou shalt weep no more: he will be very gracious unto thee at the voice of thy cry; when he shall hear it, he will answer thee" (Isaiah 30:18 & 19).