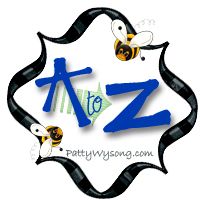 Welcome to A to Z!

We'd love to have you join the fun, either blogging your way through the alphabet with us, or simply visiting. =) We dearly love visitors.

If you're joining in the meme, be sure to link up with us at the end of this post. Since this is a blog hop, you can grab the code for the linky down there too. Find more info about the A to Z meme here.
This is our first Christmas with kittens.
Mr. Himself is not very happy about it. He's worried about broken Christmas ornaments and decorations.
We've not put our tree up yet and I keep assuring my neurotic husband it will be fine. Don't worry. Be happy! And then I sent him this video to cheer him up.
What do you think his reaction was?